Trinity International's expansion continues with the arrival of Stéphane Brabant, as senior partner, and Lucien Bou Chaaya as partner, in the Paris office
Published: 07/05/21
PRESS RELEASE
Paris, 7th May 2021
Trinity International, the leading boutique global legal practice for the energy and infrastructure sectors in frontier and emerging markets is accelerating its development and welcoming Stéphane Brabant as senior partner, and Lucien Bou Chaaya as partner into its Paris office.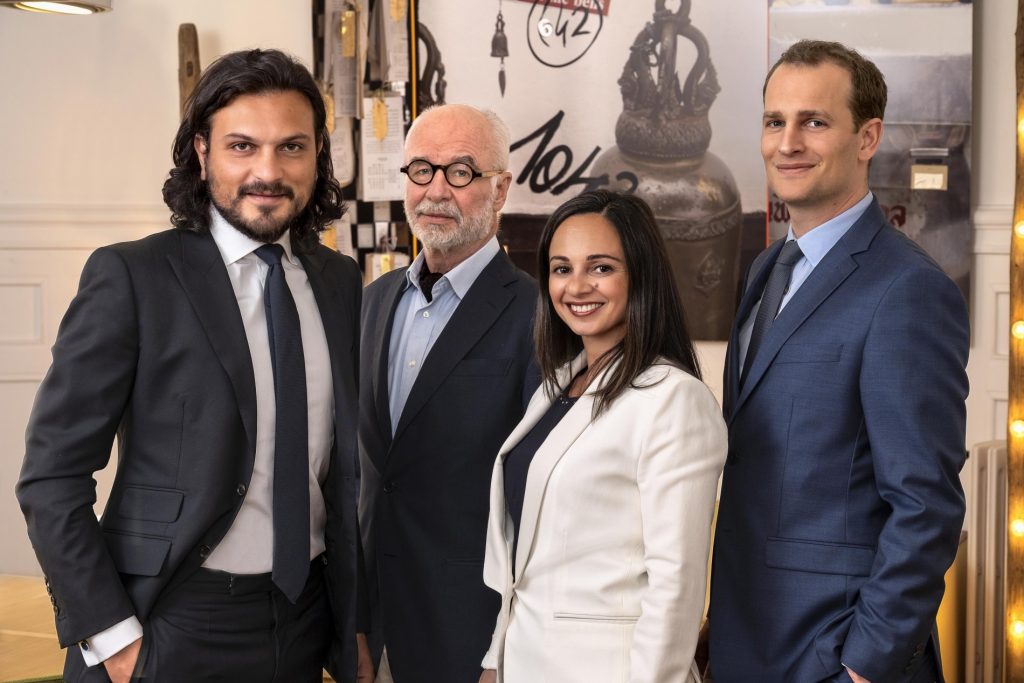 ***
---
Stéphane Brabant and Lucien Bou Chaaya are experts in projects and transactions across the African continent, with a strong track record in the mining, energy and infrastructure sectors. Their work has included structuring complex investments between multinationals and States, risk prevention and crisis management, advising multinational corporations, mining companies, business leaders, investment funds and institutional investors.
During the last two decades, Stéphane Brabant has also been recognised for his expertise in the implementation, monitoring and resolution of disputes relating to environmental, social and governance (ESG) principles and human rights and this year received a Lifetime Achievement Award from Chambers & Partners at the Chambers Africa Awards.
Speaking on his appointment, Stéphane Brabant said:
"After 22 years at Herbert Smith Freehills, whose professional and human qualities I have admired, our arrival is part of Trinity International's desire to accelerate its development in French-speaking Africa. I am very happy to accompany Lucien on this adventure which will continue my work in a continent for which I have a special attachment and respect. Trinity combines a strong entrepreneurial dimension and a responsible approach to projects and transactions, which is a state of mind aligned with my perception of ethics in business life."
Lucien Bou Chaaya adds:
"My eight years in the Energy and Infrastructure team of HSF has trained me in complex and specialised subject matters with very talented lawyers, such as Stéphane. Trinity's focus on projects in emerging and frontier markets, where development impact is most strongly felt, is a clear motivating factor for me joining the practice. Our expertise in projects and transactions in the extractive industries complements Trinity's existing services and experience, especially in the infrastructure space. My ability to handle files in Arabic will also support Trinity's response to the growing trend of Gulf and Middle Eastern players pursuing projects on the African continent so we are well set for the future."
Lead partners in Trinity's Paris office, Pierre Bernheim and Marianna Sédéfian, add:
"The arrival of Stéphane and Lucien allows us to expand our services, particularly across Francophone Africa. Lucien's dynamism combined with his profile is a decisive advantage for transactions in the Middle East. Our skills complement one another very deliberately, and in combination will allow us to offer a full range of expertise on infrastructure and energy projects but also, thanks to Stéphane and Lucien's expertise, in the oil and gas, mining and human rights sectors."
Kaushik Ray, Partner in Trinity International's London office, said:
"Trinity International was founded by partners Paul Biggs and Simon Norris and director Patrick Leece, as an emerging markets law firm led by senior lawyers, with an innovative approach to managing transactions in markets new to international investors. The growth of our French-speaking practice with the arrival of Stéphane and Lucien reflects these founding principles and testifies to our shared vision of the future in terms of providing legal services and creating solutions to global challenges, based on the principle of sustainable economic development."
ENDS.
For more information, please contact:
Amélie Lerosier – [email protected] – +336 63 58 34 62 / Ezgi Ozen – [email protected] – +33 6 34 47 46 67
Nicolas Teisserenc – [email protected] – +33 6 18 09 66 90
UK: Philip Peck –[email protected] +44 7867 300 258
Notes to Editors:

About Trinity International
Trinity International is a boutique global law firm dedicated to energy and infrastructure projects across emerging markets. The team advises investors and developers, commercial and development banks, and governments.
Founded in 2006 by Trinity's Global Senior Partner Paul Biggs, Global Managing Partner Simon Norris and Director Patrick Leece, the firm's senior-led team of 32 lawyers are recognised for their experience in project, finance and corporate matters. Trinity International has significant expertise in energy projects (renewable and thermal), oil and gas infrastructure, telecoms, roads and other transport infrastructure.
Trinity International proposes a unique service which combines know-how and innovative fee structuring. This positioning, aligning the firm with the interests of its clients and projects, favours sustainable economic development in emerging economies. Trinity International has offices in London, Paris and Washington DC and has a strong network of local lawyers in the countries in which it works.
Trinity's Paris office is led by partners Pierre Bernheim and Marianna Sédéfian. Trinity's Francophone practice is currently handling over 40 transactions worth in excess of €5bn in 18 French-speaking jurisdictions on the African continent. The firm's clients include Agence Française de Développement, Aggreko, Akuo Energy, Emerging Africa Infrastructure Fund, Engie, Eranove, Globeleq, Qair International, Scatec, Total Eren and Voltalia, amongst others.
About Stéphane Brabant
Stephane Brabant is lawyer at the Paris Bar, with more than 30 years of experience in emerging markets – and in particular in Africa – in project finance and corporate transactions. Stéphane's experience on the African continent has specialised in the mining and oil sectors, with additional expertise in risk prevention and crisis management.
During his career, he has built up a solid know-how in advising on corporate social and environmental responsibility, and more globally on human rights. In this context, he was one of the experts for Professor John Ruggie (former Special Representative of the United Nations Secretary General). He has also developed a strong expertise in Blockchain as a support to good governance and development.
Highly recognized for his expertise, Stéphane Brabant is distinguished by Chambers Global in its highest ranking "Senior Statesman" for Africa-wide projects and energy and received in January 2021 a "Lifetime Achievement Award" by Chambers Africa Awards in recognition of his contribution to the legal profession and the practice of law across the African continent. He is also ranked by Chambers Global in Band 1 for Global-wide Business & Human Rights.
Prior to joining Trinity International, Stéphane Brabant was a partner at Herbert Smith Freehills since 1998. He previously worked at PWC Legal & Tax (1989 – 1998), starting with six years in Gabon before becoming a partner in the Paris office.
Stephane is co-founder and president of the African Business Academy and Ambassador of the Sowl Initiative.
About Lucien Bou Chaaya
Lucien Bou Chaaya is a lawyer admitted to the Beirut and Paris Bars. He advises his clients on transactions and projects in France, North Africa, Sub-Saharan Africa and the Middle East. His experience is derived from extensive engagement with various industries such as mining, energy, infrastructure, private civil aviation and defence.
Prior to joining Trinity International as a partner in 2021, Lucien was a lawyer since 2013 at Herbert Smith Freehills. He had started his career in Beirut with the firm HBD-T. He holds an LLM in Arab Business Law from the University of Paris II – Panthéon Assas (2012) and a Master's degree in Private Law from Saint Joseph University in Beirut. He started his studies with a double degree in Law and Political Science at Saint Joseph University in Beirut. Lucien Bou Chaaya practices in French, English and Arabic